Something happens when we shteig.  We don't just learn, we rise.
Like a lot of Yiddish words, shteig doesn't quite have a translation. It means to rise through learning, like you've never experienced before. 
To shteig is to grapple with and challenge what you're learning with a partner. To really listen to someone who perhaps thinks differently. To discuss it and debate it. Together. It's that interaction that ignites something deep inside. So when you really engage in this amazing style of learning, something happens to you. You grow. Together.
When you partner up, you power up.
TELL US MORE ABOUT YOURSELF
WE WILL PARTNER YOU UP WITH A MENTOR
JOIN YOUR WEEKLY SESSION TO TALK, LISTEN, ASK, AND ARGUE
WELCOME TO HERITAGE HOUSE 
WAY MORE ISRAEL PROGRAM 
A 7-week program for young professionals from all over the world, staying with us in the Old City. Choose a job internship according to your profession, from over 100 companies.
Daily classes teaching basic Judaism and the life cycle of a Jew, weekly fascinating day trips to all areas of our beautiful homeland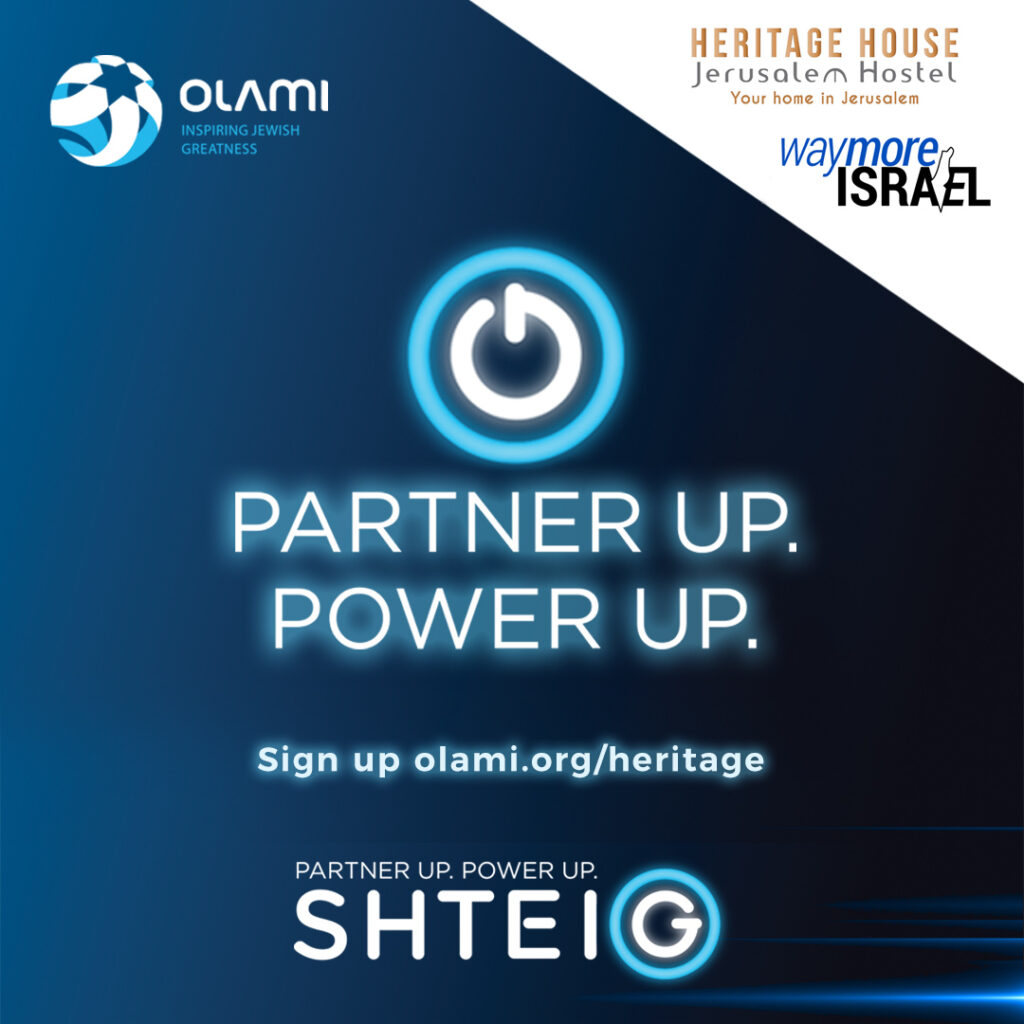 Topic: Love, Dating & Marriage
Session 1 : Jan 10 | Session 2: Jan 17 | Session 3: jan 24
Time: 12:00 pm EST / 9:00 pm ISR
The program entails partnering college-aged and young professional students, with mentors enabling both to have the and part of the power of the program is the ability to foster meaningful relationships over an extended period of time.
This is a 4-week program with the hope that the relationship continues.
While mentors should plan to commit to at least a 3-week session of one hour each, they can choose to stop participating at any time. Please just let us know in advance if your schedule has changed and you are no longer able to mentor so that we can find a suitable replacement for your student(s).
What is the goal of the Shteig learning sessions?
The goal of Shteig learning sessions in general is to expose your partner(s) to Torah learning that is relevant, interesting, and easy to connect to.
How is this different from other matched learning programs?
There are many great learning platforms, and some of our mentors volunteer their time to more than one. The Olami Shteig platform offers three unique aspects:
Our program is exclusively on Zoom enabling a "virtual" relationship whereby you can see and interact on a weekly basis with your student from anywhere.

Our learning format creates a "Virtual Beis Medrash." Students and mentors alike will start in one large zoom room, where a dynamic emcee will provide a short introduction to the topic of the night. Matched students and mentors will be moved to Zoom breakout rooms, where each mentor will learn together with their partner student(s) for about 30-40 minutes before we bring back all learning partners back to the main Zoom room where the emcee will provide a short wrap-up of the session. The program will last about one hour.

In addition to the option of learning 1-on-1 with students, mentors might also have the opportunity to lead small discussion groups of 3-5 students.

Olami will provide well-researched materials from a team of educators.
Who will I be matched with?
We will try to connect you with the best possible partner(s), which will be a college-aged student or young professional coming from a variety of Jewish backgrounds, but mostly secular.  Like any matching process, you can always switch partners if it is not a suitable match. With over 1,000 students already engaged in this Olami program globally, the vast majority of students are very happy with their mentors and vice versa.
What is the preparation ahead of time?
There is no need to prepare anything ahead of time. We provide source materials for each week that can be easily understood, along with a coherent translation of all Hebrew texts as well as a mentor guide with added explanations and thought-provoking questions.
Follow us on social media